---
Trading Diary
April 12, 2002
These extracts from my daily trading diary are intended to illustrate the techniques used in short-term trading and should not be interpreted as investment advice. Full terms and conditions can be found at
Terms of Use
.
USA
The Dow formed an inside day, closing slightly up at 10190 on lower volume.
The Nasdaq Composite index closed up 1.85 at 1756 on an inside day, but is still in a down-trend.
The S&P 500 is ranging between 1070 and 1180, closing up at 1111 on an inside day.
IBM clean
The SEC announces that it has closed its investigation of IBM "without action".
(
more
)
The All Ords closed down at 3308 on rising volume. The MACD is still below its signal line.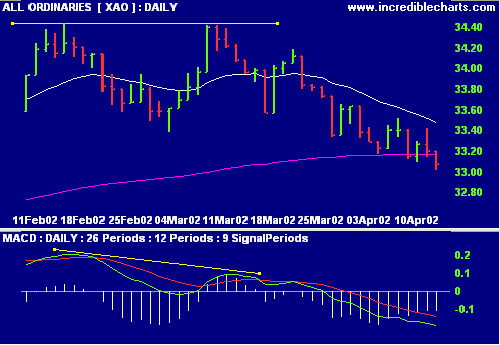 Flight Centre [FLT]
Following the successful acquisition of corporate travel businee ITG, Flight Centre is on the lookout for further acquisitions.
(
more
)
Sectors: Tourism & Leisure
XTU is in a Stage 2 up-trend, having recently made a new high and shows improving relative strength (price ratio).
Note that FLT is classified as Retail - maybe there is some justification for GICS.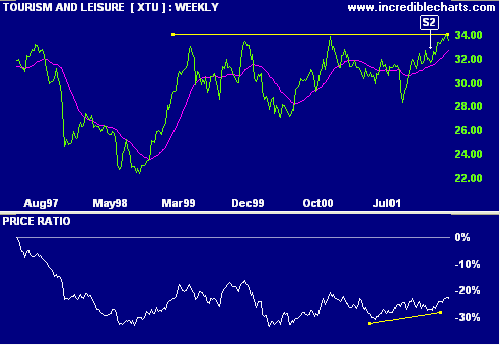 Conclusion
Short-term: The market is in a down-trend - avoid 
long.
Medium-term: The All Ords completed a double top at the end of March and can be expected to retreat to +/- 3240. Avoid new positions.
Long-term: Wait for the Nasdaq or S&P 500 to break above their January highs.
Colin Twiggs
P.S. We are trying out new Email software. Please report if you experience any problems with the trading diary.
Please forward this to your friends and colleagues.
---
Back Issues
Access the Trading Diary Archives.
---