---
Trading Diary
April 10, 2002
These extracts from my daily trading diary are intended to illustrate the techniques used in short-term trading and should not be interpreted as investment advice. Full terms and conditions can be found at
Terms of Use
.
The Dow rallied 1.7% to close at 10381 on strong volume, after positive news from automakers and retailers. A classic
bottom reversal
signal from William O'Neil.
The Nasdaq Composite index rose 1.4% to close at 1767, with gains by chip stocks.
The S&P 500 is still ranging between 1070 and 1180, closing up 1.1% at 1130.

Yahoo
Yahoo raises its outlook for next year.
(
more
)
Disney
Theme parks raise earnings hopes.
(
more
)
The All Ords closed up at 3327 on low volume. The MACD is still below its signal line.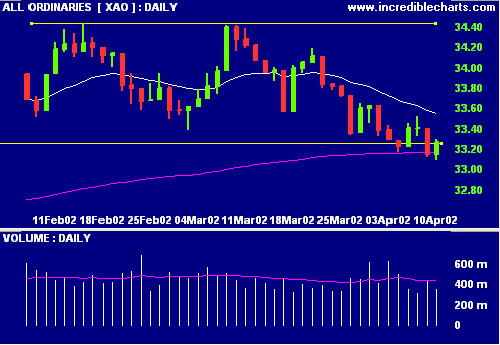 Gold stocks
Local gold stocks soften as gold falls below US$ 300.
(
more
)
Sectors: Gold
XGO is still in a strong up-trend, with no sign of an imminent reversal.
Conclusion
Medium-term: Wait for a new high on the All Ords.
Long-term: Wait for the Nasdaq or S&P 500 to break above their January highs.
Colin Twiggs
P.S. We are trying out new Email software. Please report if you experience any problems with the trading diary.
Please forward this to your friends and colleagues.
---
Back Issues
Access the Trading Diary Archives.
---