---
Trading Diary
April 01, 2002
These extracts from my daily trading diary are intended to illustrate the techniques used in short-term trading and should not be interpreted as investment advice. Full terms and conditions can be found at
Terms of Use
.
The Dow closed down 0.4% on Monday at 10359 on low volume. If the index falls below 10200 this will mean a downward turn in the short cycle.
Hopes of a chip sector recovery kept the Nasdaq in positive territory, closing up 0.9% at 1862. So far the index has failed to exceed its January high which would signal the start of a bull market.
Likewise, the S&P 500 encountered resistance around the level of its January peak, and closed almost unchanged at 1146.
Crude oil futures above $27
Middle East tensions force crude futures above $27 a barrel (after trading below $20 in February).
(
more
)
The All Ords closed up slightly Thursday, at 3363 on very high volume, signaling accumulation. The MACD and Slow Stochastic are below their signal lines.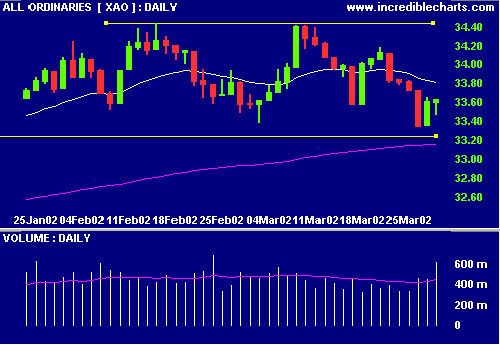 Rate rise?
Falling unemployment and strong growth have increased fears of a rise in official interest rates, even as early as Tuesday's Reserve Bank meeting.
(
more
)
Sectors: Miscellaneous Industries
Miscellaneous Industries is a mixed assortment, including Computer & Office Services and High Technology sectors. The XMI index has formed a Stage 1 base and then broken above the 30-week weighted moving average, warranting further investigation.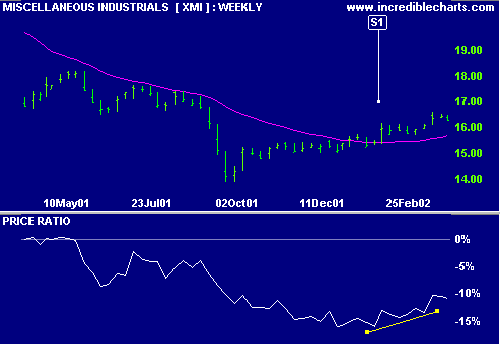 Conclusion
Short-term: Avoid 
long
until there is an intermediate up-trend.
Medium-term: Wait for a new high on the All Ords.
Long-term: Wait for the Nasdaq or S&P 500 to break above their January highs.
Colin Twiggs
P.S. We are trying out new Email software. Please report if you experience any problems with the trading diary.
Please forward this to your friends and colleagues.
---
Back Issues
Access the Trading Diary Archives.
---