---
Trading Diary
March 26, 2002
These extracts from my daily trading diary are intended to illustrate the techniques used in short-term trading and should not be interpreted as investment advice. Full terms and conditions can be found at
Terms of Use
.
The Dow recovered by 0.7% to close at 10354 on reasonable volume.
The Nasdaq Composite index rallied by a similar amount to close at 1824.
The S&P 500, likewise, rose to 1138.
SEC gets tough over accounting practices
The SEC is sueing 6 former Waste Management executives for fraudulently inflating profits by $1.7 billion over a 5 year period.
(
more
)
Network Associates
Tech stock Network Associates fell 11% on news that the SEC is investigating its accounting practices.

(

more

)
The All Ords fell sharply, closing more than 1% down on higher volume. The MACD and Slow Stochastic are below their signal lines.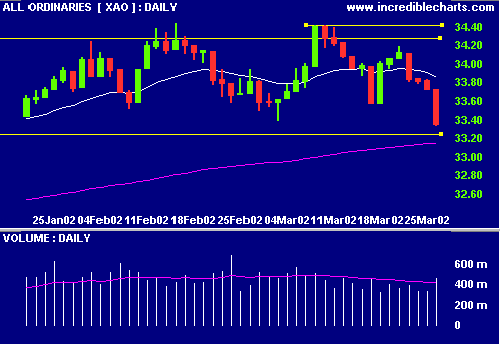 Stocks hit by rate fears
The neutral bias from the US Fed and the 0.25% rate hike across the Tasman has pushed the market into bear territory.
(
more
)
Coles are to phase out their discount card.
(
more
)
Sectors: Retail
The retail sector index (XRE) has been in a strong Stage 2 up-trend since August 2000, with rising relative strength (price ratio) and rising 30-week weighted moving average.
Conclusion
Short-term: Avoid
new long
and tighten up stops.
Medium-term: Wait for a new high on the All Ords.
Long-term: Wait for a secondary cycle reversal on the Nasdaq or S&P 500 - if they break above their January highs.
Colin Twiggs
P.S. We are trying out new Email software. Please report if you experience any problems with the trading diary.
Please forward this to your friends and colleagues.
---
Back Issues
Access the Trading Diary Archives.
---