---
Trading Diary
March 21, 2002
These extracts from my daily trading diary are intended to illustrate the techniques used in short-term trading and should not be interpreted as investment advice. Full terms and conditions can be found at
Terms of Use
.
The Dow closed down slightly at 10479 on normal volume.
The Nasdaq Composite index rallied almost 2% to close at 1868.
The S&P 500 rose slightly to 1153.
All closes were near to the daily Highs - a good sign for tomorrow.
GE
General Electric is criticized over its short-term debt levels.
(
more
)
The All Ords closed down sharply at 3384 on normal volume. The MACD is still below its signal line and continues to form bearish divergences.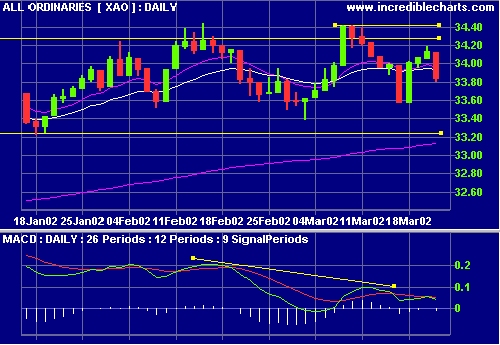 Telstra headed for clash with ACCC?
In September 2001 the ACCC put Telstra on notice to address pricing issues with its broadband competitors. The matter has still not been resolved.
(
more
)
Sectors: Telecommunications
XTE has formed a Stage 1 base, with the 30-week weighted moving average sloping upwards, while relative strength has leveled out. Wait for relative strength to rise above its previous peak.
Conclusion
Short-term: Avoid new positions until MACD crosses above its signal line.
Medium-term: Wait for a new high on the All Ords.
Long-term: Wait for the Nasdaq or S&P 500 to break above their January highs.
Colin Twiggs
P.S. We are trying out new Email software. Please report if you experience any problems with the trading diary.
Please forward this to your friends and colleagues.
---
Back Issues
Access the Trading Diary Archives.
---