---
Trading Diary
March 13, 2002
These extracts from my daily stock trading diary are intended to illustrate the techniques used in short-term share trading and should not be interpreted as investment advice. Full terms and conditions can be found at
Terms of Use
.
USA
Another inside day, indicating continued uncertainty, with the Dow closing down more than 1% at 10501 on normal volume, but continuing to hold above the 10300 support level.
The Nasdaq Composite index retreated 1.85% to 1862 with chip stocks being sold down.
The S&P 500 retreated 1% to 1154, below the important 1170/1180 resistance level.
Triple witching hour this Friday
Contracts for stock index futures, stock index options and stock options simultaneously expire on the third Friday of March, June, September and December. The last hour of trading is highly volatile as traders attempt to close out their positions.
Chip stocks down
Analysts cut growth forecasts and valuations for Intel and AMD.
(
more
)
The All Ords retreated further to close at 3396 on low volume. The Slow Stochastic is below its signal line.
Sectors: Health & Biotechnology
The XHB index appears to be entering a
Stage 4
decline, with declining relative strength [1] and the last 6 weeks trading below the 30-week weighted moving average [2]. Tighten up stops in this sector.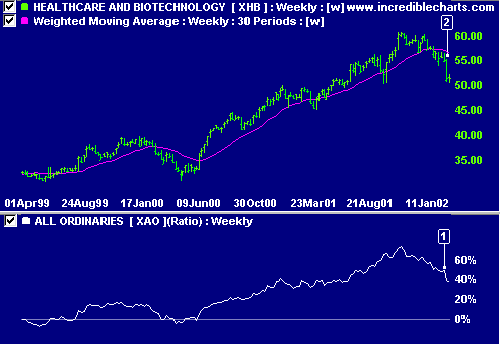 Austar [AUN]
Losses totalled $682 million last year, including $240 million of write-downs.
(
more
)
WMC [WMC]
Chairman Ian Burgess and chief executive Hugh Morgan are to retire. 
(
more
)
Conclusion
Short-term: Avoid new positions until the Slow Stochastic and MACD signal a resumption of the rally.
Medium-term: Wait for a new high on the All Ords.
Long-term: Look for a secondary cycle reversal on the Nasdaq or S&P 500 - if they break above their January highs.
Colin Twiggs
P.S. We are trying out new Email software. Please report if you experience any problems with the trading diary.
Please forward this to your friends and colleagues.
---
Back Issues
Access the Trading Diary Archives.
---