---
Trading Diary
March 11, 2002
These extracts from my daily stock trading diary are intended to illustrate the techniques used in short-term share trading and should not be interpreted as investment advice. Full terms and conditions can be found at Terms of Use

.
The Dow formed another inside day but continues to hold above the 10300 support level, closing up at 10611 on low volume.
The Nasdaq Composite index formed an outside day, closing down slightly at 1929.
The S&P 500 is encountering resistance around the level of its January peak, closing at 1168.
IBM blues
The Big Blue has been downgraded by Sanford Bernstein.
(
more
)
The All Ords closed below its support level at 3422 on low volume. The MACD and Slow Stochastic are above their signal lines.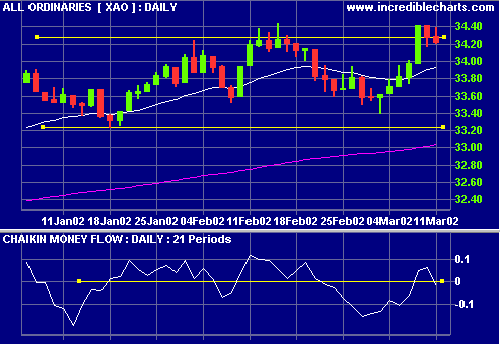 Banks defend credit card fees
The banking industry aggressively defends credit card interchange fees - under review by the Reserve Bank.
(
more
)
ERG: Sydnet Transport legal battle and funding for future contracts are concerns [ERG]
"Should a material number of these initiatives fail to be completed on a timely basis, a condition of significant uncertainty as to the going-concern status may arise. The directors do not believe at this date that the initiatives will not be completed on a timely basis."
(
more
)
Conclusion
Short-term: Avoid new positions until we see a rally. The Slow Stochastic has been slow to turn below the signal line.
Medium-term: Wait for a new high on the All Ords.
Long-term: Look for a secondary cycle reversal on the Nasdaq or S&P 500 - if they break above their January highs.
Colin Twiggs
P.S. We are trying out new Email software. Please report if you experience any problems with the trading diary.
Please forward this to your friends and colleagues.
---
Back Issues
Access the Trading Diary Archives.
---