---
Trading Diary
March 4, 2002
These extracts from my daily stock trading diary are intended to illustrate the techniques used in short-term share trading and should not be interpreted as investment advice. Full terms and conditions can be found at
Terms of Use
.
The Dow climbed more than 2% to close at 10586 on strong volume, making a clear break above the high of early January. The next major resistance level is 11500.
The Nasdaq Composite index and S&P 500 rose 3.1% and 1.9% respectively, reversing the down-trend on the short cycle.
Market optimism
The market brushed aside a profit warning from Oracle and rallied strongly in the afternoon session. 
(
more
)
The All Ords reacted positively to the Friday US markets, closing up at 3370 on strong volume. The Slow Stochastic crossed to above its' signal line. The reaction this morning has been positive, with the All Ords up at 3386 at 11.00 a.m..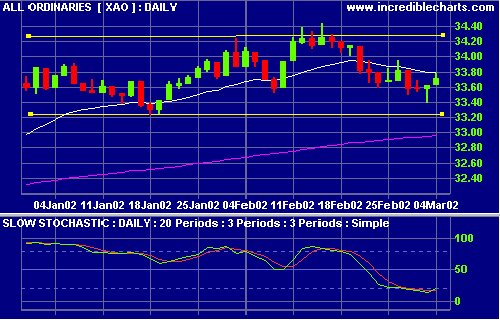 Woolies predicts double-digit growth [WOW]
Woolworths delivers a 24.3% rise in profits and forecasts double-digit growth "for the forseeable future". 
(
more
)
EStar
EStar Online Trading is to re-focus from unprofitable online broking division. 
(
more
)
Conclusion
Short-term: Avoid new entries until the MACD joins the Slow Stochastic above its signal line.
Medium-term: Wait for a new high on the All Ords
Long-term: Look for a secondary cycle reversal on the Nasdaq or S&P 500 - if they break above their January highs.
Colin Twiggs
P.S. We are trying out new Email software. Apologies for the late delivery this morning. Please report if you experience any problems with the trading diary.
Please forward this to your friends and colleagues.
---
Back Issues
Access the Trading Diary Archives.
---