---
Trading Diary
February 20, 2002
These extracts from my daily stock trading diary are intended to illustrate the techniques used in short-term share trading and should not be interpreted as investment advice. Full terms and conditions can be found at
Terms of Use
.
USA
The market is highly volatile with the averages regularly posting gains/losses of 1% to 3%. The Dow fluctuates in a trading range between 9,500 and 10,000, signaling uncertainty, while the Nasdaq is in a down-trend.
Today the Dow gained more than 2% in a late afternoon rally, to close at 9941 on high volume. The Nasdaq 100 gained 1.5% to close at 1408.
Lehmann analyst Holly Becker downgraded AOL Time Warner to market perform: "Our concerns fall into four buckets: a slowing narrowband business, a costly broadband transition, online advertising and European expansion." 

(

more

)
The All Ords declined sharply following the earlier drop in the US markets, closing at 3383 on large volume. The MACD has crossed to below its signal line, joining the Slow Stochastic.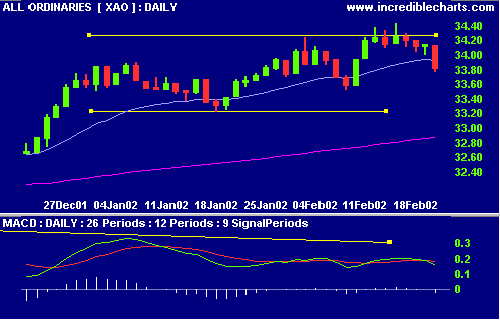 PBL [PBL]
Publishing & Broadcasting profits are hit by the advertising downturn and big gambling wins. 
(
more
)
Brian McGuigan Wines and Simeon Wines are to merge, blending "marketing talents with production expertise". 
(
more
)
Short-term: Avoid further new entries until there is a signal from the MACD and Slow Stochastic.
Long-term: Wait for a correction on the secondary cycle.
P.S. We are trying out new Email software. Please report if you experience any problems with the trading diary.
Please forward this to your friends and colleagues.
---
Back Issues
Access the Trading Diary Archives.
---