---
Trading Diary
February 19, 2002
These extracts from my daily stock trading diary are intended to illustrate the techniques used in short-term share trading and should not be interpreted as investment advice. Full terms and conditions can be found at
Terms of Use
.
USA
The Dow closed down 1.6% at 9743 on normal volume. The Nasdaq 100 fell 3.5% to close at 1386 as tech stocks are sold down on accounting concerns.
IBM stock fell 3.3% as the company agrees to change disclosure on future transactions.
(
more
)
The decline on the All Ords has slowed with the index closing at 3414 on lower volume. Expect further weakness today as the market reacts to the Dow/Nasdaq. The Slow Stochastic is still below its signal line.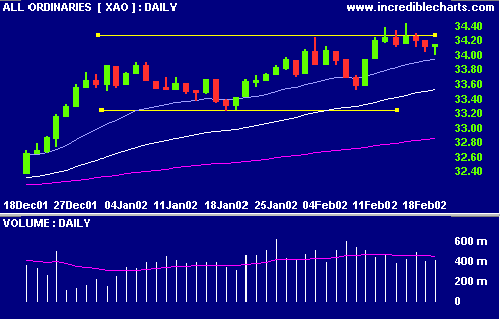 Wine pool [MGW]
Brian McGuigan Wines and Simeon Wines are likely to merge. 
(
more
)
Market reaction was uncertain despite the blood products group posting a 107% rise in net profits for the half year ended December 2001. 
(
more
)
Short-term: Avoid further new entries.
Long-term: Wait for a correction on the secondary cycle.
P.S. We are trying out new Email software. Please report if you experience any problems with the trading diary.
Please forward this to your friends and colleagues.
---
Back Issues
Access the Trading Diary Archives.
---