---
Trading Diary
February 6, 2002
These extracts from my daily stock trading diary are intended to illustrate the techniques used in short-term share trading and should not be interpreted as investment advice. Full terms and conditions can be found at
Terms of Use
.
USA
The Dow formed an inside day, signaling uncertainty, as it fell to 9653 on reasonable volume. The Nasdaq 100 dropped a further 1% to close at 1445.
Cisco systems reported 2nd quarter earnings ahead of analysts estimates. Net income was $660 million, compared to $874 million for the same quarter last year. 
(
more
)
The All Ords closed down at 3369 on strong volume, with the MACD and 20-Day Slow Stochastic both below their signal lines.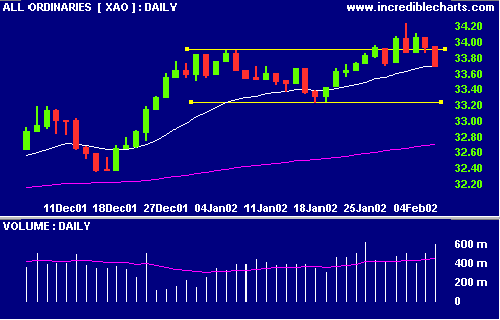 The rescue falters as the number of jobs saved is cut to 3000 and disputes over Sydney terminal access continue. 
(
more
)
Stocks in Macquarie Bank fell more than 10% as earnings for the 2002 fiscal year fail to meet market expectations.

(

more

)
Short-term: The All Ords reflects the uncertainty in the US market. Wait for an improvement.
Long-term: Take a look at a 3 year chart of the Dow or the Nasdaq. You will see why I continue with my mantra: Wait for a correction on the
secondary cycle
.
P.S. We are trying out new software. Please report if you experience any problems with the trading diary.
Please forward this to your friends and colleagues.
---
Back Issues
Access the Trading Diary Archives.
---