---
Trading Diary
January 31, 2002
These extracts from my daily stock trading diary are intended to illustrate the techniques used in short-term share trading and should not be interpreted as investment advice. Full terms and conditions can be found at
Terms of Use
.
USA
The Dow climbed another 1.6% to close at 9920 on strong volume, while the Nasdaq 100 made a weaker rally, to 1550.
Proctor & Gamble leads the market up, announcing good results. 
(
more
)
Walt Disney Co. reported a more than 50% drop in first quarter earnings, excluding one-off items, on a 5% fall in revenue.
(
more
)
The All Ords rose strongly to close at 3404 on good volume, near to its high of 3425. The MACD has crossed to above its signal line, signaling a market entry point. Coming so soon after a bearish divergence, it will pay to be cautious and only enter trades where stop losses can be placed within tight limits.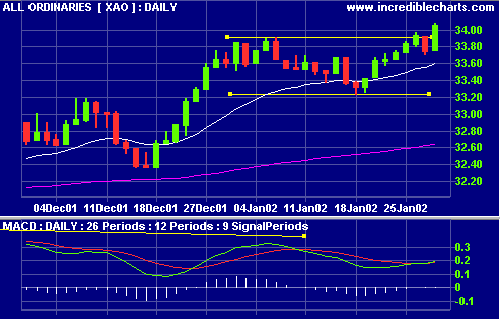 Qantas moves register to rival, ASX Perpetual Registrars 
(
more
)
The pair's National Rail Consortium will acquire FreightCorp and National Rail for $1.05 billion. 
(
more
)
Short-term: The MACD has signaled a market entry point. Approach the market with caution as the MACD has just completed a bearish divergence. Only take trades where stop losses can be set within tight limits.
P.S. We are trying out new software. Please report if you experience any display problems with the trading diary.
Please forward this to your friends and colleagues.
To be included on our mailing list, reply to this Email adding MAIL ME to the subject title. All details submitted are protected by our
Privacy Policy
.
---
Back Issues
Access the Trading Diary Archives.
---