---
Trading Diary
January 15, 2002
These extracts from my daily stock trading diary are intended to illustrate the techniques used in short-term share trading and should not be interpreted as investment advice. Full terms and conditions can be found at
Terms of Use
.
USA
The Dow closed up slightly at 9924 on an
inside day
. The Nasdaq 100 also steadied, closing up 0.5%.
Intel beats estimates
Intel reports fourth quarter revenue and earnings above analysts estimates.
(
more
)
Sellers have still not overcome buying support at around 3350 - the All Ords closed at 3349 after trading lower for most of the day.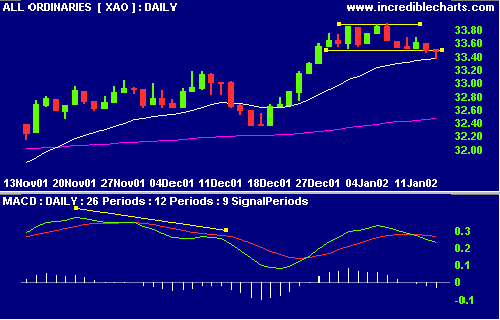 Consumer confidence soars
A market survey in Australia records the highest consumer confidence levels in four years. 
(
more
)
Normandy
AngloGold forced to confirm that it will not raise its' offer.
(
more
)
Placing a stop-loss at just below $1.80 may help to lock in profits but, if there is a correction, beware of getting caught in the rush for the exits.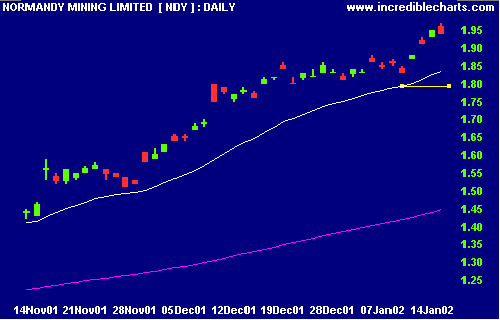 Conclusion
Short-term: Wait for the market to show clear direction.
Thought for the day: "It takes a wise man to sell in a boom. Any fool can sell in a recession." V.J. Naipaul
Colin Twiggs
Please forward this to your friends and colleagues.
To be included on our mailing list, reply to this Email adding MAIL ME to the subject title. All details submitted are protected by our
Privacy Policy
.
---
Back Issues
Access the Trading Diary Archives.
---