---
Trading Diary
November 16, 2001
This is my daily stock trading diary. It is intended to illustrate the techniques used in short-term share trading and should not be interpreted as investment advice. Full terms and conditions can be found at
Terms of Use
.
USA
The mid-week rally seems to have dissipated, with the Dow, S&P500 and Nasdaq closing largely unchanged.
Wall Street signals

The steep 
yield curve
points to a strong recovery in the new year.
(
more
)
Australia  (ASX)
The All Ords took a breather after a week of strong gains, closing down at 3258 on strong volume. We may have another test of the 21-day moving average in the week ahead, but the trend still looks strong.
Just remember: The broader the base, the stronger the trend. The trough in September had a very narrow base and we could well experience a pull-back to near these levels.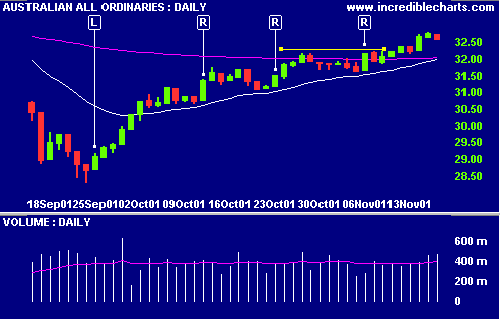 Telstra
Management are "subdued" in their outlook.
(
more
)
Healthcare & Biotechnology
Healthcare & Biotech are the top performing industry group on the ASX, measured over 3 years. Heralded as the "technology of the future", I have a lurking suspicion that Biotechs could be more accurately described as the next "DotCom" sector. There will be some spectacular successes but there will also be some spectacular failures.
Longer-term, active investors should restrict themselves to stocks with sound fundamentals:
Look for positive earnings per share, stocks that are viable businesses and not just good "ideas";

Avoid stocks that are overly reliant on a single product.
Conclusion
Colin Twiggs
Please forward this to your friends or colleagues.

To be included on our mailing list, reply to this Email adding MAIL ME to the subject title. All details submitted are protected by our

Privacy Policy

.
Back Issues
---
Back Issues
Access the Trading Diary Archives.
---